Newborn photography is an area of portrait photography that focuses on capturing the finer details of newborn babies, from unique close-up shots of their gorgeous eyes and eyelashes to teeny fingers and toes.
The purpose of newborn photography is to preserve memories of this special time in the lives of new parents and families.
Newborns are typically photographed within the first 2 weeks of their life, as this is when they are the most flexible and sleepy. That then allows a wider range of poses and setups to capture a newborn at their most miniature and adorable stage of life.
Our packages include a two-hour studio session with 3 digital or mounted prints.
What does a typical Newborn session look like?
Newborn sessions take place at our studio located in Burbage, Leicestershire. For full details about where the magic happens, check out our website www.rebeccadawe.com
Various props such as blankets, baskets and cute little outfits are available for use to make a newborn session that extra bit more special and individual, as well as a variety of different backdrops and setups.
Whether you're looking for beautiful images to share with friends and family or to simply capture moments in time, to hang on your walls, newborn photography can be a wonderful way to preserve these memories.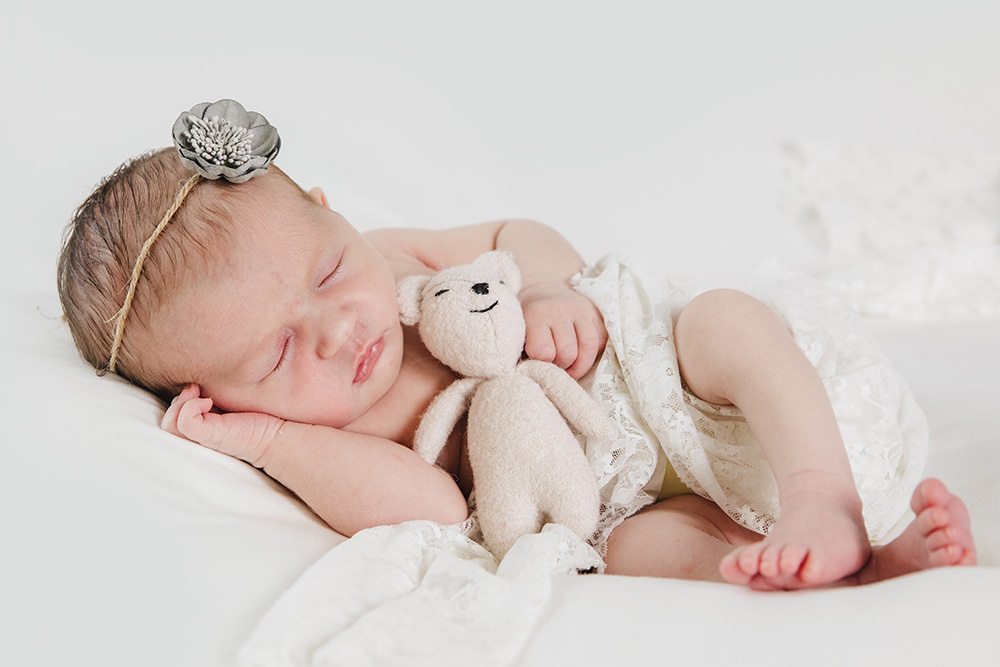 What to expect at a Newborn session?
Here at Rebecca Dawe Photography, we believe a newborn session should be a memorable experience to be cherished by new parents.
As photographers we want to produce the most perfect photos for you, your friends and your family, to look back at and remember those first stages of your newborn's life. However, we understand that for our clients, photography is more than the outcome of your images.
Your experience with us starts from your very first step into our studio until the very moment the door closes behind you when you leave.
Whether it's you and your newborn's safety and comfort or your self-satisfaction and relaxation, we have you and your baby covered.
Before your session with us, we make sure the studio is warm and cosy, so your baby can reach ultimate comfort. This way your baby is more likely to fall asleep, they will then feel less agitated by the lights and cameras and won't be too fussed about being moved around into different positions.
We then take time to choose the right props. We want to make sure everything we include in your images compliments your baby's skin tone and hair colour. However, we do always welcome any props that you may want to bring and we will try our best to incorporate them into your session.
Our team also understands the importance of patience and taking breaks within your session. You can expect to take breaks for feeding, changing or anything else your baby may need. Do not be shy to ask at any moment to take a break. We fully understand patience is key and we will work with you to tailor around your baby's needs.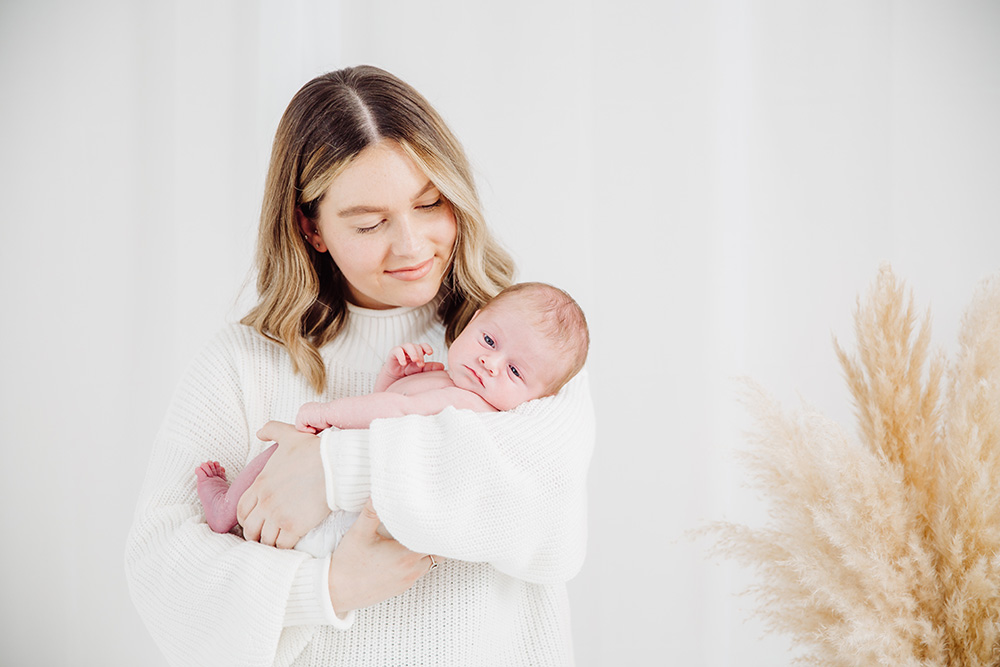 Wondering how to prepare for your session?
Don't worry we have you covered! As a team, we have come up with a few useful tips to make your experience as enjoyable as possible.
Timing is definitely important. The first two weeks of your baby's life is the best time for a newborn session as they are the most flexible and sleepy, so your baby will probably be asleep during their session.
Preparation is key. Before a newborn session make sure your baby is well fed, they have a clean nappy etc. But of course, you can always bring whatever you and your baby might need and feeding is always welcome during your session with us.
Plan ahead of your session. Before your session, plan an outfit you may want your baby to wear and we are happy to hear any set up ideas you may have to make your newborn photography as perfect as possible.
As photographers, we can ensure that by following these tips you will be on the way to capturing stunning images of your newborn, whether they be print or digital.
How do you book a session?
Booking a session with us is really simple. You have two options: you can either book online here >>  or call us on 01455 239172 and make a booking over the phone.
Links to our website can be found on all social media platforms via our bio.
---